The Ultimutt Race is an annual 5K (3.1 miles) run/walk. But what makes this race special are all the obstacles along the way that both you and your dog must complete together.
So if there are hay bales in your way, you and your dog need to make your way over them.
If this sounds a bit difficult, then don't worry. There are two waves – a competitive wave (for the real runners) and the fun wave (for everyone else).
We ran in the fun wave, but we still tried to run about 70% of the time. And compared to other 5K dog races we do, there are definitely more runners here, even in the fun wave.
Plus you're running (or walking) for a good cause! 10% of every participant fee along with 100% donations will go towards food and medical supplies for dogs and cats at Greenville County Animal Care.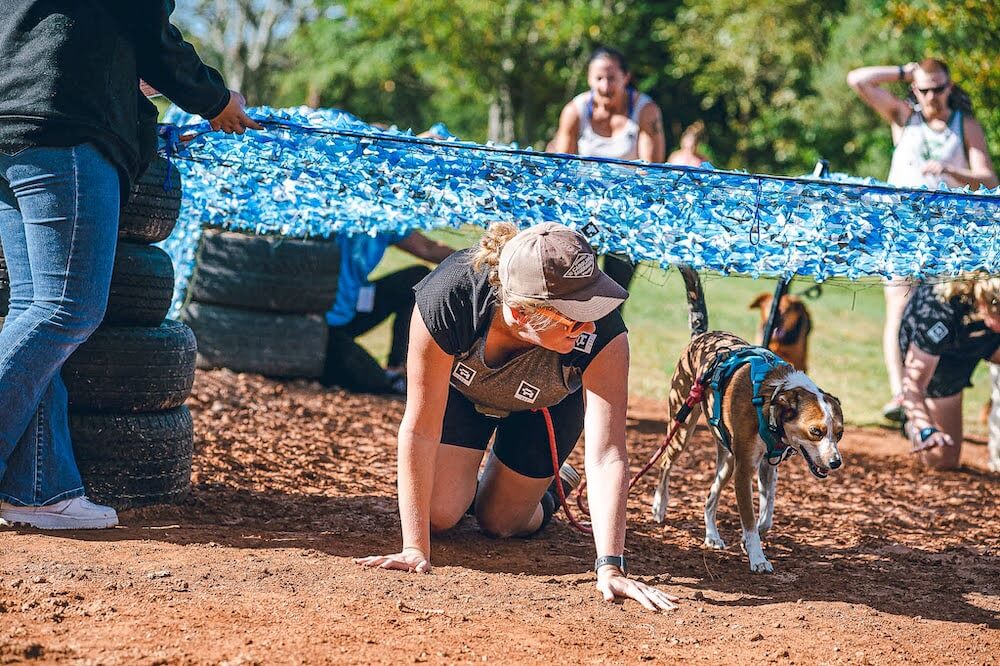 When Is the Ultimutt?
The Ultimutt Race is usually on a Saturday in October. The race starts around 10am.
The competitive wave goes first and then right after they all start, the fun wave begins. They release runners one at a time in like 5-10 second intervals. So we had to wait like 15-20 minutes in a long line before it was our time to start.
Be sure to follow the Ultimutt on social media. Registration usually opens in February.
Since registrations open so early, there are early bird prices. We registered super early and paid just $35. But prices did go up closer to the event.
Where Is the Ultimutt?
The race takes place at Homestead at Hartness. Which is kind of a community here in the Greenville area.  The race starts near the warehouse on the property.
Parking was…difficult. They sold way more tickets than they expected I think. The parking lot by the warehouse was tiny and they didn't have anybody assisting with it. People began just parking in the grass leading up to the warehouse.
I'd suggest getting there close to when check-in begins so you don't have to worry about it.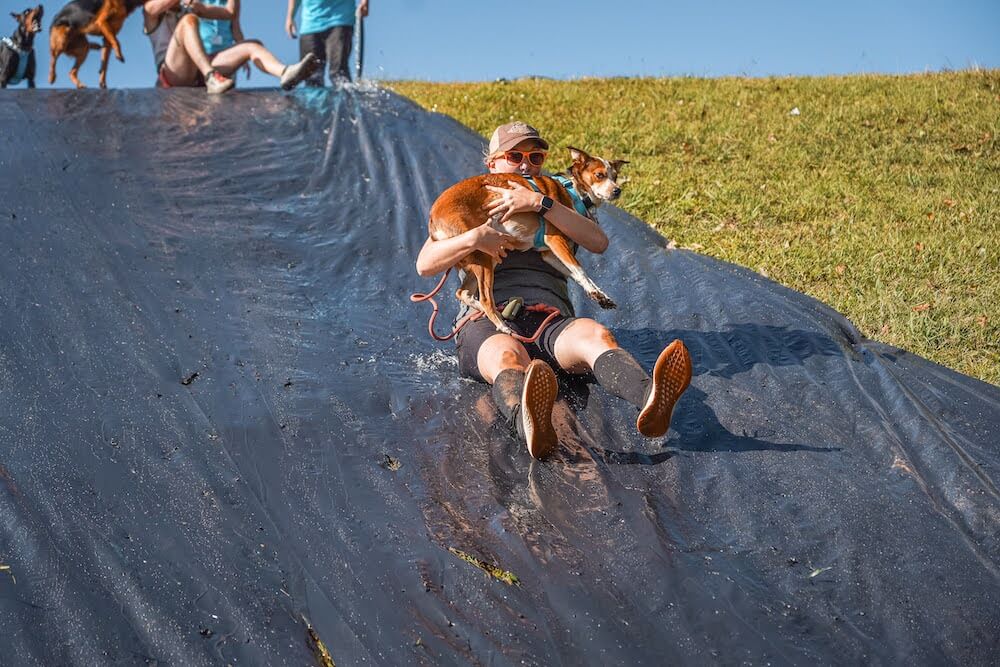 Ultimutt Obstacles
Okay so what about all these obstacles? What are those like?
In 2022, there were 15 separate obstacles. They released info on all of the obstacles beforehand, and even included tips on how to train for them.
They even offered two training sessions (located behind the Noble Dog Hotel) so you could begin to introduce your dog to them.
We attended both and they were so helpful. Ellie was a bit unsure at first with the obstacles so the sessions allowed us to practice them. When it was race time, she wasn't really nervous at all.
Most of the obstacles aren't that difficult. Like the hay bales, the under-over, and the weave poles were all super easy.
But there are a few that are on the more difficult side. The hardest obstacles were the A-Frame and the teeter totters.
The A-Frame just because of how tall and steep it was. Ellie was much better at this than I was. And the teeter totters are like a big see saw. You have to get on it and then use your weight to push the other side down.
It's difficult to say the least. And it's kind of high off the ground. Ellie was a champ but I struggled to push the other side down and keep my balance.
There were a couple of other memorable obstacles.
Ellie also refused to go through the foam bubble tunnel (she hates to get wet) and I had to carry her.
And then there was the astro water slide. There wasn't a good way to prepare for this slip-n-slide obstacle. Mostly because you slide so much faster than I expected. Ellie and I were both a bit shocked.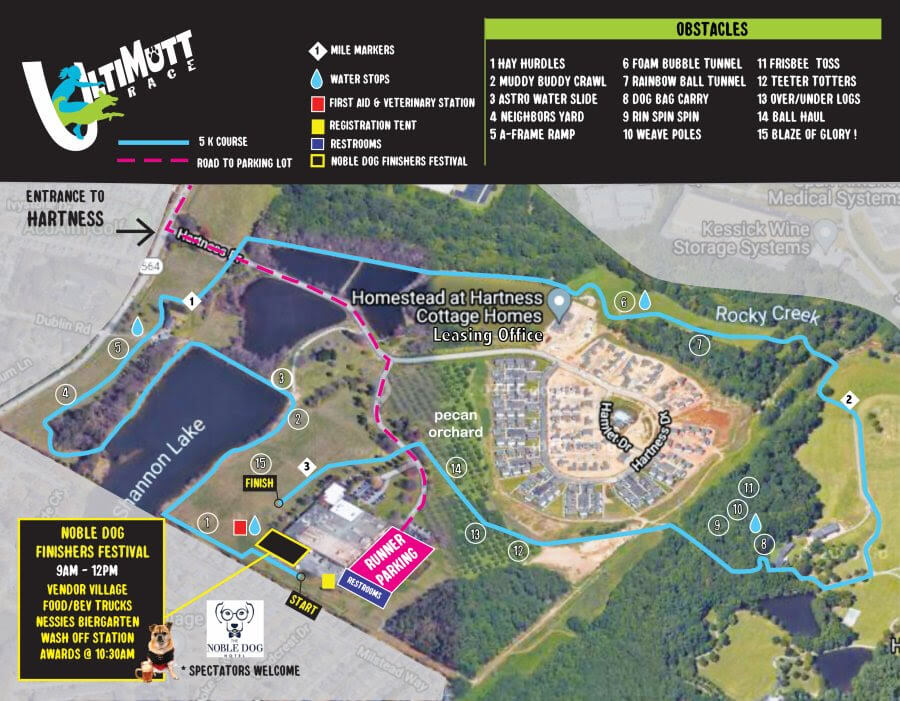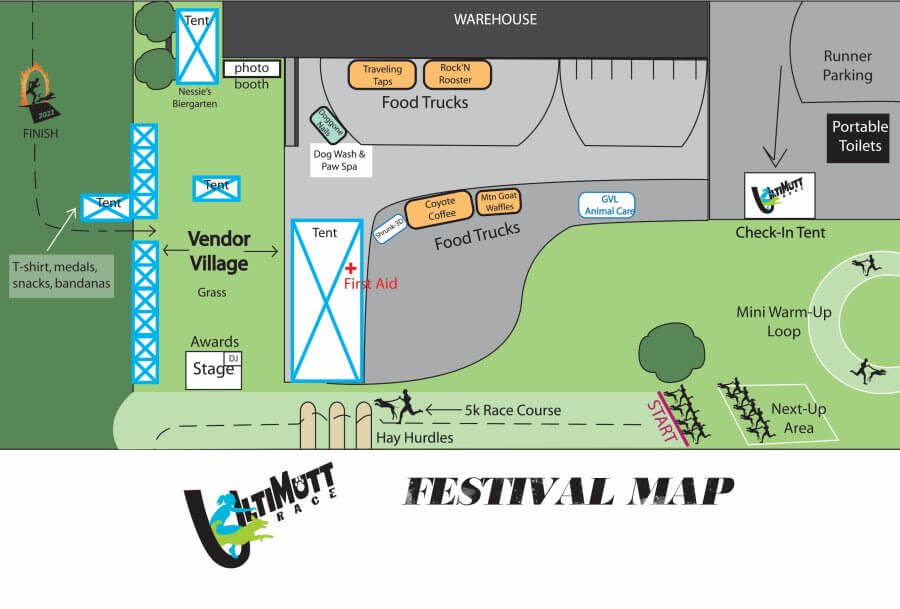 Can you skip an obstacle?
Of course!
If you are in the fun wave, you can skip the obstacle with no penalty. Just simply walk around it.
If you are in the competitive wave, you have to do like 30 squats first and then you can go around it.
They definitely don't want you to force your dog to do something.
Are there water stations?
There were water stations set up at some of the obstacles, but not a lot. I wish there had been more.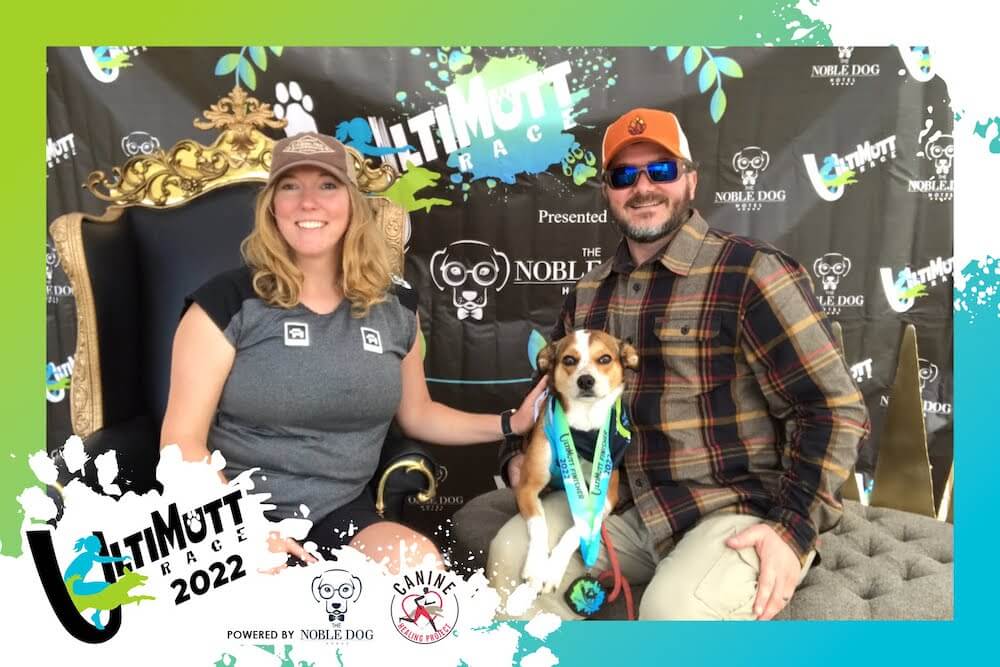 Photos
Since you don't want to take anything with you while you are running (you will get wet), they have photographers set up along the path at certain obstacles.
At check-in, you get stickers to put on your shirt with a number. This is how you will find your photos.
A few weeks after the race when they release the photos, you can look up the photos via your number.
This process wasn't perfect though. There are plenty of times the system couldn't read the number.
But I was still pleased with all the photos I did get.
In 2022, they had photographers at the muddy buddy crawl, the astro water slide, the over/under logs, and the finish line.
But just because they have a photographer doesn't mean you'll get a good photo at every obstacle. For example there are no photos of us at the over/under obstacle.
I do like the ones I've included here though.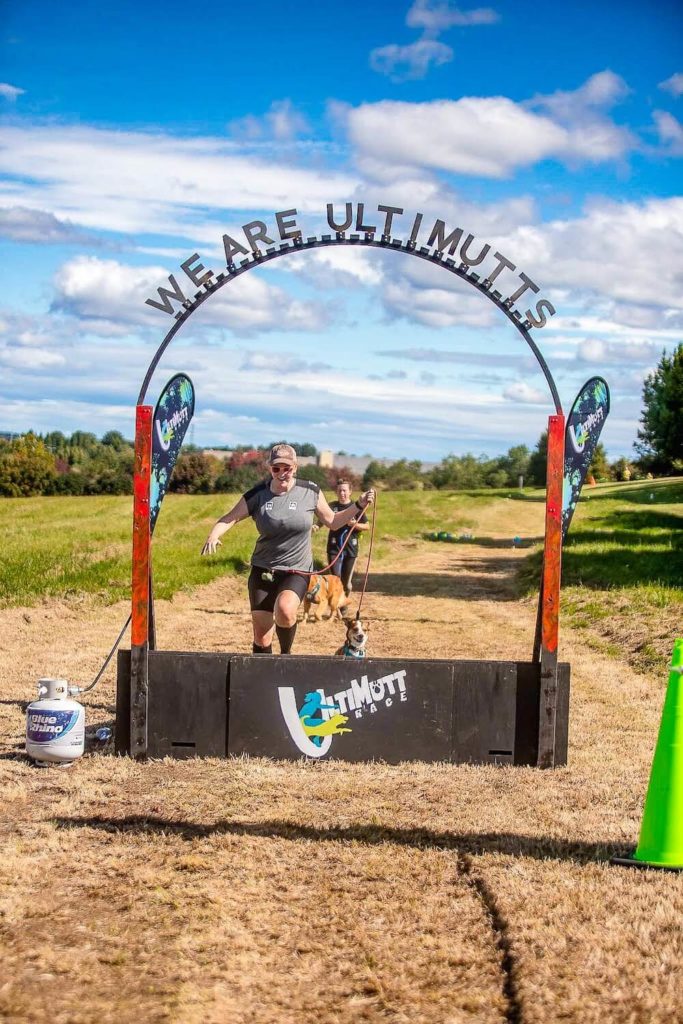 Vendor Market & Raffle
After the race ends, there's a vendor market with snacks, water, and lots of sponsor and vendor tents. Plus beer and food trucks.
I snagged a few gifts such as a new collar at Paw Paws and some new treats for Ellie from Sweet Treats for Wet Noses.
They also have a photo booth (with a really long line), where you can get a photo of you and your dog. They'll print one right there and also email it to you.
Then near the end of the event there was a raffle. It was kind of confusing how the raffle worked, but I must have figured it out well at the end because we won a basket!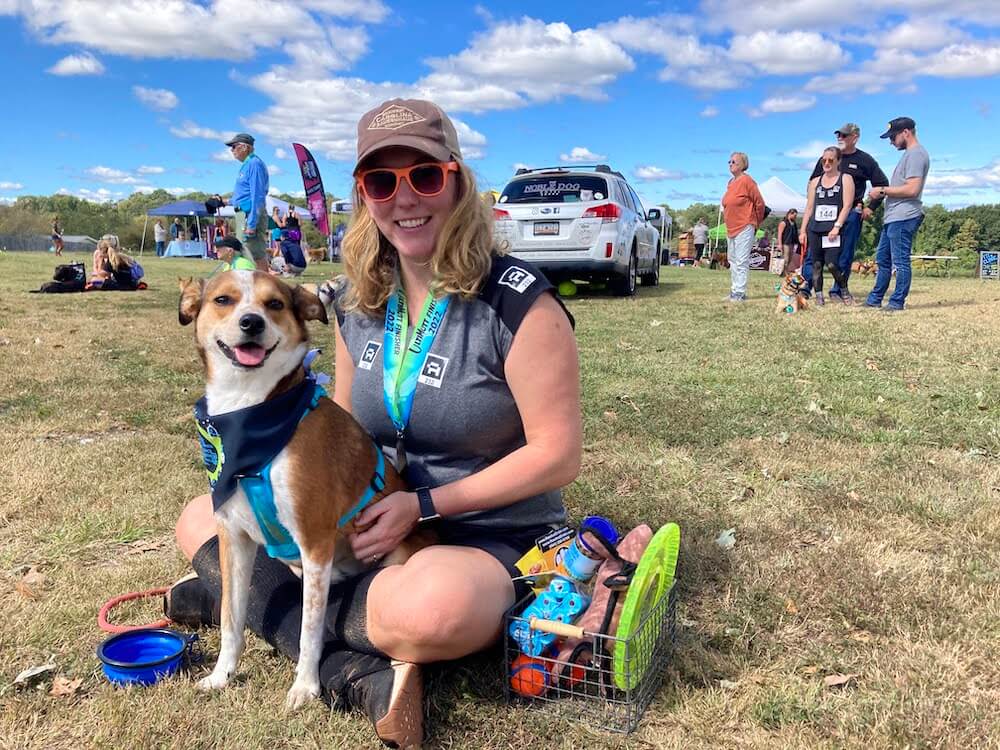 Should You Go With Your Dog?
If your dog is friendly to other dogs and people – yes! Ellie had a great time running with all the other dogs.
The obstacles were more difficult than I expected, but if you are in the fun wave, you can skip any that you like.
And though there were more runners than I expected, you can just walk. Just be sure that you and your dog are fit enough to walk a 5K.
In terms of training, do some longer walks with your dog leading up to it (or maybe even some running if you like).
And be sure to practice some of the obstacles beforehand too! We set up some boards in the backyard (with just buckets and chairs) to practice over and under with Ellie.
And lastly, be sure to bring poop bags with you! So many dogs had to potty along the way. There weren't a lot of trashcans about (something I hope they change), but you need to pick it up.
We walked Ellie a bit before the race and luckily she went before we started.
Other Dog Events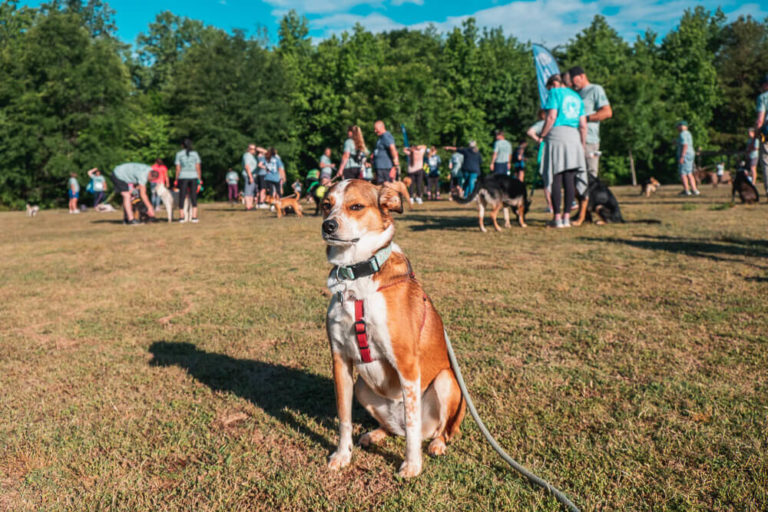 This 5K (walk or run) fundraiser for the Greenville County Animal Care will take you through a loop of the Conestee Nature Preserve.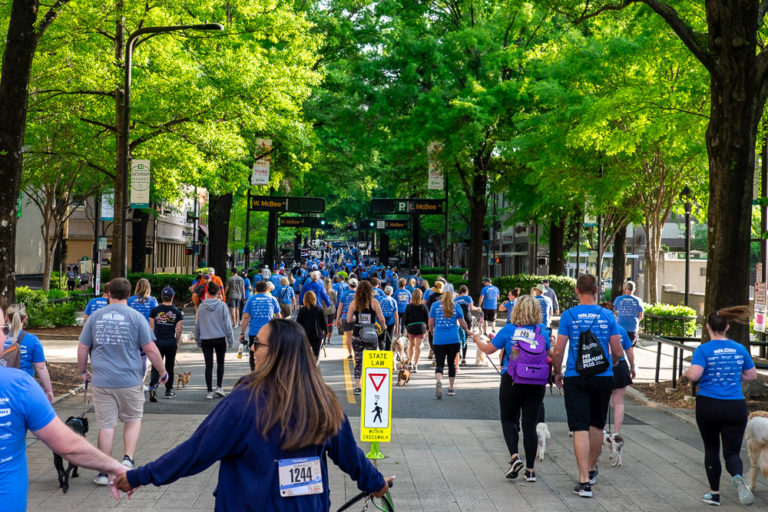 This 2 mile (walk or run) fundraiser for the Greenville Humane Society will take you through downtown Greenville.