The Mutt Strut is an annual 2 mile run/walk event through downtown Greenville supporting the Greenville Humane Society. You can run it. You can walk it. (Most people walk it.) And it's one of our favorite events of the year.
100% of the proceeds from the event benefit the Greenville Humane Society. Money raised will go towards sheltering, feeding, and vaccinating the shelter's animals.
Since I adopted Ellie from the Greenville Humane Society, I love supporting the shelter.
In 2022, there were around ~2,000 people and ~1,300 dogs participating in the fundraiser. We finished the race in 281st place at just around 39 minutes.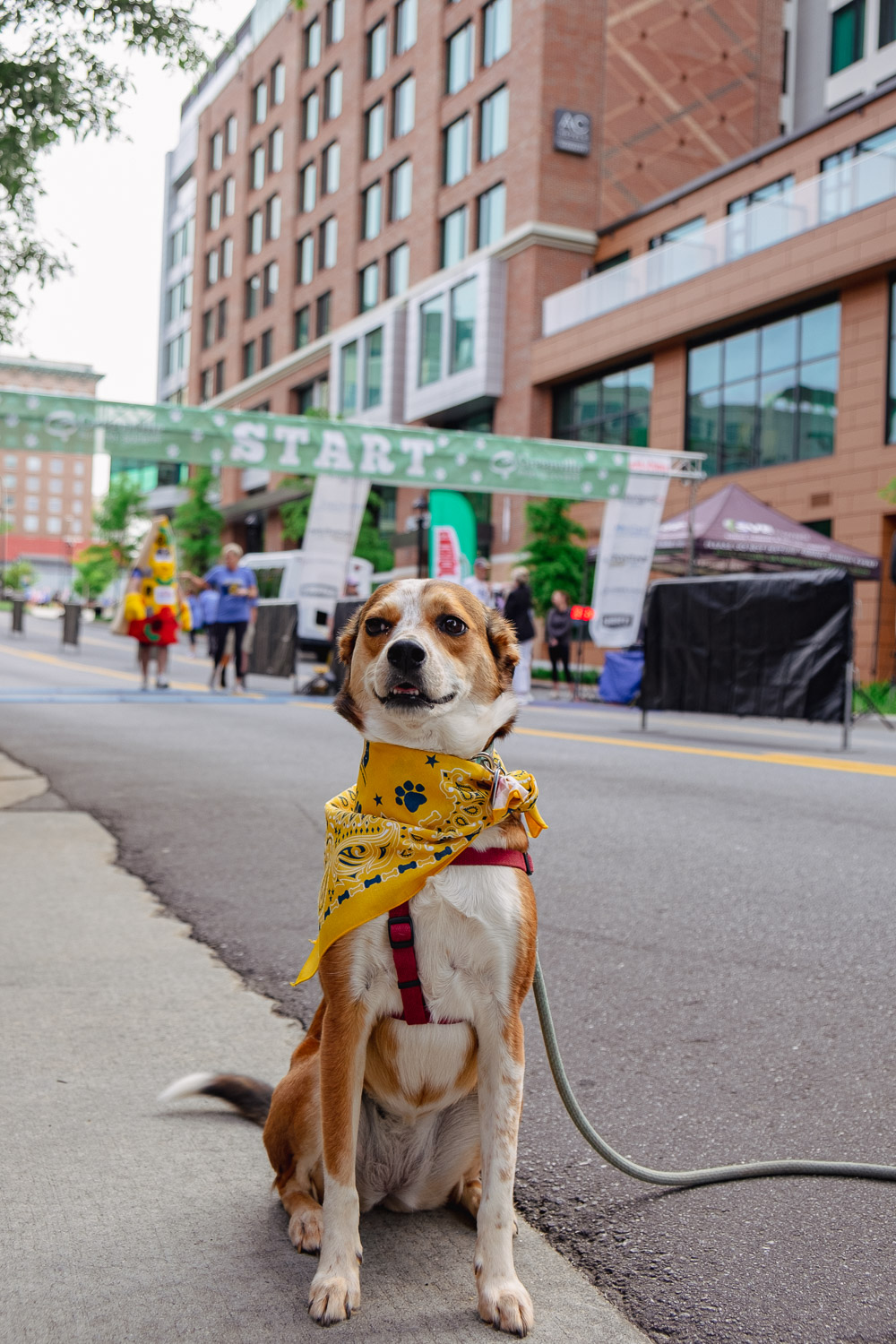 When Is The Mutt Strut?
The Mutt Strut is usually on a Saturday at the end of April. The race starts around 8:30am so that it's not too hot yet for all the pups walking/running.
Make sure you follow the Greenville Humane Society on social media and be on the lookout for the announcement.
Registration usually opens in January.
If you have a group, you can sign up as a team or you can join as individuals. You can also raise money for it (be sure to read the details on becoming a fundraiser). There are awards for the top fundraisers (individual and team).
Race fees change year to year, but expect it to start around ~$30 for early registrants and to increase as the event gets closer.
Where Is The Mutt Strut?
The race takes place through downtown Greenville. The start/finish line is positioned right in front of The Peace Center (near the Main Street bridge that crosses the Reedy River).
In previous years, you walk north on Main Street, before looping off to the right. You will be walking up and down some hills, so be prepared for that.
And there are a few water stations set up along the way for your pup. Though if your dog doesn't like to share a water bowl (or just refuses to drink out of any public bowls like Ellie), you may want to bring a water bottle/bowl for them.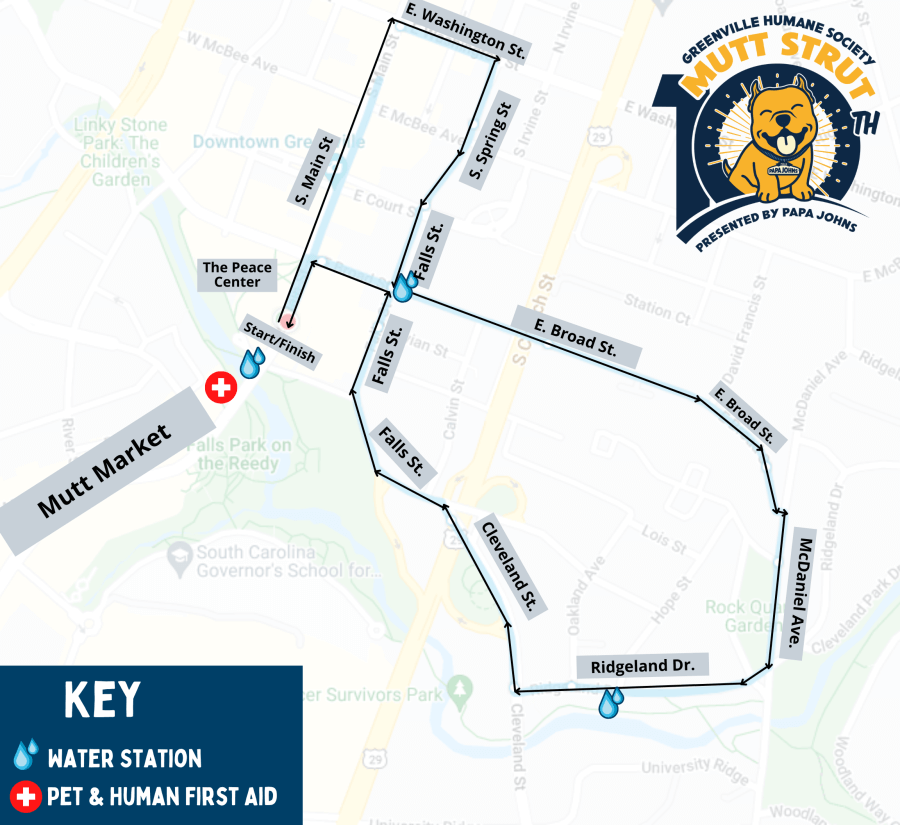 Packet Pickup
Each registrant gets a swag bag, race bib, and t-shirt (while supplies last). In 2022, packets had to be picked up tprior to the event. No day-of packet pick-up was available.
Racers and team captains could pick up the packet from 12pm-6:30pm on the Thursday & Friday before the event at the Greenville Humane Society.
An email reminder for the packet pickup (and for the event itself) was sent out that week.
Mutt Market
After the race ends, there's a "mutt market" complete with live music, free pizza (thank you Papa Johns), caricature artists, face painters, and sponser tents with lots of giveaways.
We scored some new treats for Ellie from Pet Wants GVL, some free pizza, some new dental treats to try out, and entered a giveaway for a discount at the Subaru service center.
Should You Go With Your Dog?
If your dog is friendly to other dogs and people – yes! Ellie had a great time walking with all the dogs of Greenville. (And she probably would have been ok to even run it…though I could not.)
This was a super fun fundraiser to do with her. And though she was a bit nervous right before the start (so many people and dogs just standing around), as soon as we started moving, she perked up and had a great time.
And if the 2 mile distance has you worried for your dog, you can even have your pup in a dog stroller. (Though you will then have to walk and push it, so keep that in mind.)
Just be sure to bring poop bags with you! Ellie had to go just 3 blocks in and so many other dogs were stopping as well (sometimes right in the middle of the street). Be prepared and pick up after your dog.